Sunday, July 25, 2004
Pictures from Italy
Here are a few pictures of Italy. I'm slowly adding commentary:
---
Naples from Virgil's Tomb (a round tower, the top of which is in the foreground)
Virgil is (supposedly) buried in a small park next to the Mergellina railway station. We walked there on a blisterlingly hot day, braving one of the noisiest parts of Naples, and found a relatively small park planted with flora mentioned in Virgil's works. The tomb was a tower, most of which was covered in scaffolding, so that we could not identify it, despite the seventeenth-century drawing on a nearby sign. The tower is stuck against some cliffs which contain the remains of a Roman aqueduct and some Christian frescoes of indeterminate age in some niches. We eventually found a small stairway, which took us to the top of the tower (see picture). There we found some archaeologists (?) scrubbing the stones.
---
Herculaneum and Modern Ercolano with Vesuvius in the background
Mount Vesuvius erupted on 2 August, 79 AD, destroying the residential town of Herculaneum. Some might say that the modern Ercolano, which borders on the archaeological site, could use a similar treatment. Herculaneum is quite small, and we missed some of the key sites because they were closed in the afternoon. The whole place was not very well run, as if they really didn't expect anyone to come and see the ruins. For all that, there are some frescoes and even surviving woodwork which escaped destruction, and you can sort of see what life was like in a small town, as opposed to the great metropolis of Pompeii. Just don't try to read the guide books. They are impossible to follow.
---
The Archiginnasio in Bologna, the first university building
The university of Bologna is the first university in Europe, and the Archiginnasio is its oldest building (though sixteenth century). It has very ornate frescoes in the courtyard, which has a pleasant arcade to shelter you from the heat of summer in Bologna. That was our major concern, as it was perhaps our hottest day in Italy. Bologna does not seem to have a lot of trees or parkland, which made the experience even more sweltering. They do, however, have impressively long stretches of porticoes, many of them medieval or early modern.
---
The Bosco del Cansiglio, a nature preserve in the foothills of the Dolomites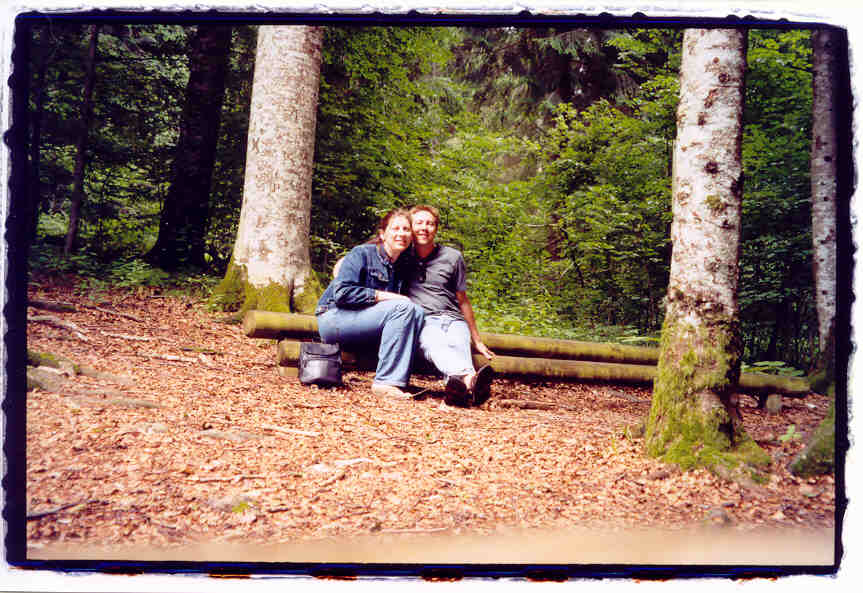 The Bosco del Cansiglio is a nature preserve northeast of Vittorio Veneto. To get there you climb a seemingly never-ending windy road up the mountains until you get to the top. The road then descends into a densely wooded valley with a large open plain in the middle with sheep and horses grazing. The temperature drops noticeably as you descend. Once there, we hardly saw a soul. However, when we found a trail into the forest we encountered after about a hundred feet one of those training circuit exercise areas that you see at parks. It's never possible to escape wholly civilisation (or, at least, those obsessed with fitness).
---
Verona, approaching the Castelvecchio
I'm calling this Verona, but I have a sneaking suspicion that it's Vicenza, and my memory is playing tricks on me. Regardless, it wasn't anything significant--just a pretty view.
---
Verona, San Zeno
This was in Verona. The Basilica di San Zeno Maggiore is just off the beaten track enough to be free of too many tourists, but it's a real treasure. The church was built between the twelfth and fourteenth centuries and contains an impressive amount of good frescoes to which, unusually, you can get quite close. There are also some wonderful bronze doors with scenes from the Old and New Testaments.
---
Verona, Piazza dei Signori (aka Piazza Dante)
This piazza goes by the name of Piazza Dante because it contains a large statue of the poet just to the left of the view in the picture. The scene seemed quintessentially Italian, complete with kids playing football. Alas, there was also a quartet playing 'O sole mio'. Being quintessential is one thing, being cliché quite another...
---
More commentary will be added soon...
Friday, July 23, 2004
Back from Italy and England
Today is my first full day back from Italy and England. A full report and the resumption of this web log will begin as soon as I get over jetlag.